The world changes daily, and so does the teaching and learning process, especially in the last few years. Also, learning a foreign language is no longer privileged for wealthy and influential people.
And now there are plenty of free online websites and resources dedicated to helping you choose the right learning path to learn Arabic online.
So whatever your level in Arabic, there is something for you. Let's look at these practical methods and resources to learn Arabic online.
---
Why learn the Arabic language?
Arabic is a Semitic language spoken primarily across the Arab world that developed in the 1st century. And now, Arabic is spoken in 30 countries worldwide and is an official language in 26 countries.
There are over 420 million Arabic speakers worldwide, which brings Arabic into the top 6 most spoken languages on Earth. Arabic is also becoming a popular language to learn in the Western world, even though its grammar is difficult for native English speakers. 
Many other languages have borrowed words from Arabic because of their importance in history. Also, it's important to learn Arabic for non-Arab Muslims to understand Islam and recite the Quran correctly. That's why learning Arabic is a good choice, so let's find out how to learn Arabic online.
Best practical Steps to learn Arabic online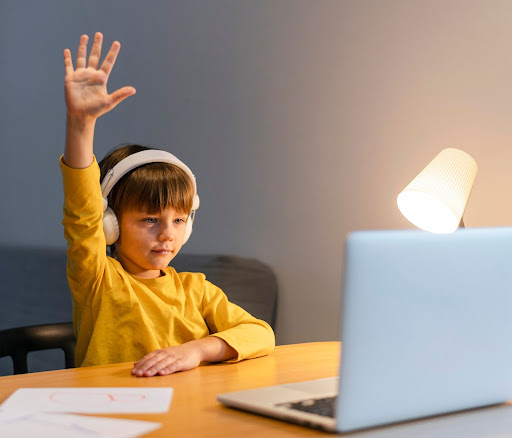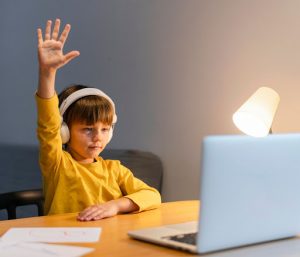 Learning Arabic online has never been easier; you only need a strong internet connection and a smartphone with a good cam. Above all, you will need patience, commitment, dedication, and a practical approach to learn Arabic online.
And one of the fastest ways to learn Arabic online is to have convenient tools and resources, to make the learning process much easier.
1- learn Arabic online through one-to-one Arabic classes online
You can learn Arabic online from the comfort of your home, with only a Smartphone and a laptop fitted with a good quality camera for smooth learning of Arabic classes online.
You can enroll in one-to-one online Arabic classes that improve your Arabic skills better than in a group. So it is one of the fastest ways to learn Arabic online, where a native Arabic tutor will give you feedback on your pronunciation of every word you say.
2- online Arabic learning websites 
You can find many websites to learn Arabic online that cover different categories and topics related to teaching Arabic online.
It's always better to have native Arabic teachers from the mother language country, like the Middle East. Or teachers who have convenient experience in teaching Arabic to foreigners. So If this feels like you, join Bonyan Academy today, the best website for Arabic classes online for kids and adults.
3- learn Arabic online with Apps
Arabic learning apps have several benefits apart from other learning Arabic online tools. An excellent Arabic learning app should contain certain features like audio recording, flashcards, or adjustable playback speeds to make learning more accessible and enjoyable.
Also, don't choose an app that's too far below or above your level; instead, download apps that suit your level in Arabic. So if your Arabic level is close to fluent, there is no need to download an app for basic Arabic expressions.
4- online communication with native Arabic speakers
The immersion approach is the best and most effective method to learn Arabic online. You can connect and converse with native speakers using digital platforms like skype.
You can try to speak the language and immerse yourself in a real conversation with native speakers. This method will refine your Arabic learning skills, where you can see and hear the correct pronunciation of each letter of the Arabic language.
5-  learn Arabic online through Audiobooks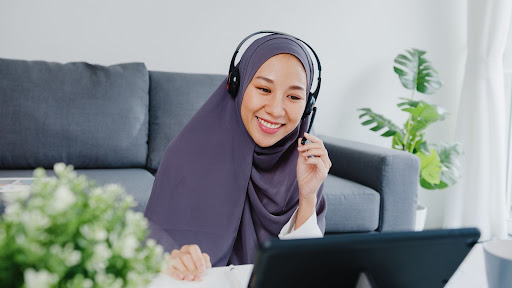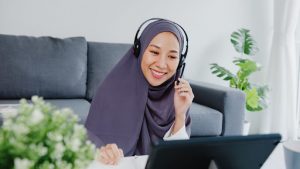 Another tool to learn Arabic online is audiobooks, where you can read and listen to the Arabic language regularly. Audiobooks have several mental benefits where you can enrich your Arabic knowledge of vocabulary and grammar.
Also, it increases your Arabic reading speed with good interpretive reading skills. And here's where to start learning the Arabic language through an audio:
It is an online school Academy to learn Arabic online, provided with a free trial to test out lessons at all skill levels. It also offers online programs and one-to-one classes with certified and native Arabic speakers, so it's very much worth it. 
You can try this resource to learn Arabic online, where you can sign up for free. It also has an impressive amount of Arabic content, from beginner to advanced.
You can use this tool to listen to radio from different Arabic-speaking countries. There are also stations based on the dialect you want to learn.
It's also one of my favorite places to listen to Arabic words from native speakers. You can explore many audiobooks and pronunciation references from its extensive database.
6- Carry a pocket dictionary wherever you are
Having an Arabic-to-English dictionary is helpful to learn Arabic online. So make sure to keep it with you wherever you are.
Dictionaries can help you to discover new words, helping you to express precise ideas to use any word and form sentences correctly.
7- learn Arabic online by watching historical Arabic movies
Historical series and TV shows use modern standard Arabic dialect, where you can learn and enjoy. These series are enjoyable, and you will never procrastinate watching them, besides playing a vital role in your journey to learn Arabic online.
They are also informative, giving you a sustainable background of the different cultural and religious aspects of the Arab world.
8- practice, practice, and practice
Practice makes anything possible, so make it your motto and action point to learn Arabic online successfully. So whatever the quality of the Arabic learning approach or the Arabic online classes you've enrolled in, hard work and success have no alternatives.
---
TheseThese days, Arabic learning online has become so much easier, and there are many highly customized courses suitable for all levels. You only need to put an effort and practice regularly so that you can read, speak and write Arabic quickly.