All Muslim parents worldwide are responsible for guiding their kids to the right path. And this starts with the childhood foundation of the Quran and the important teaching basics of Islam.
Thanks to the internet, Muslims who live in non-Arab countries can now learn Quran for kids without going anywhere.
Now you can learn online Quran classes for kids from the comfort of your home. Also, you can have this blog as a guide for the best methods used for Quran learning for kids.
---
What is the best age to start learning Quran for kids?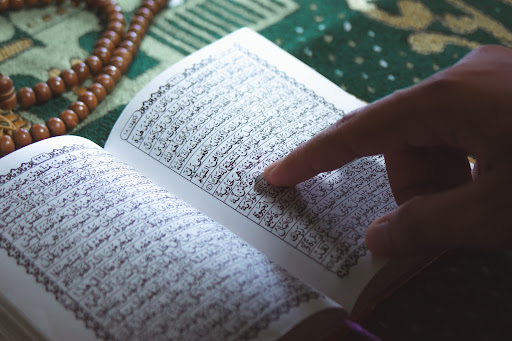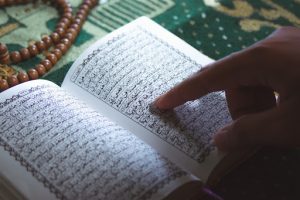 For non-Arabic kids, they had to start learning Arabic basics and grammar. After that, they can begin the journey of learning Quran for kids.
Therefore, parents can start teaching their children Arabic, besides their mother language, at three years old. But parents need to be flexible in the learning process, as some kids can learn more quickly than others. Others will want nothing but to play at that age, so let them take their time and don't force them.
Why should children learn Quran at an early age?
Memorizing and learning Quran for kids with its proper recitation during childhood is a blessed and successful method that distinguishes the noble personalities of Islam.
So children should learn the Quran for numerous reasons :
Quran for kids is the only source for teaching values and morals at a young age shaping them into better citizens and individuals.

Kids have fresh minds, so they tend to memorize more quickly than adults and remember it for a long time. This includes studying, reading, and memorizing the Quran.

Quran learning for kids instills the love of Allah and the prophet Muhammad P.B.U.H.
So it's better to engage your kids in online Quran classes for kids as early as possible. And we are here at Bonyan Academy, offering the best Quran classes for kids with the best learning methods and Quran tutors.
Important Tips on how to learn Quran for kids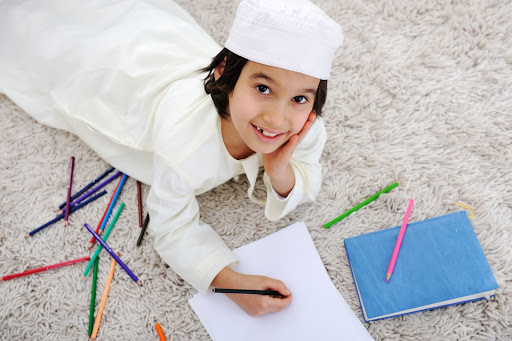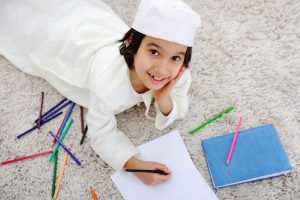 Many parents feel confused when it comes to learning Quran for kids or what to start with for a proper learning process.
So the following tips can be your guide on how to read Quranic Arabic and can show you the best methods for Quran learning for kids from scratch:
1- learning the Arabic Alphabet 
Before learning Quran for kids, they need to master the Arabic basics, like the Arabic Alphabet, and get used to the sounds of Arabic. 
Luckily, the internet is full of online sites and apps that develop new methods to teach a kid the Alphabet and Arabic basics in an effective and fun way.
Or you can use Arabic Alphabet flashcards, making them more passionate about learning.
2- learning Qaida before starting Quran for kids
After the kids know their Arabic Alphabet, you need to make sure that Qaida is completely done before learning Quran for kids. You can find different Qaida's available, "Uthmani script," as in Madinah Mushaf, and Indo-Pak script.
Both are great for kids, but the Indo script can be easier for Quran learning for kids as it comes with more signs and visual clues. 
3- Teaching Tajweed to kids with proper pronunciation
After learning Arabic basics and Qaida, now the kids are ready to recite the Quran with Tajweed. Learning Quran for kids with Tajweed makes them able to recite the Quran with the correct pronunciation of each letter.
And gradually, your kid will know to recite the Quran the way it is supposed to be recited, as it was revealed to the prophet Muhammad P.B.U.H.
4- Memorize Quran for kids with Hifz plans
After learning Quran for kids with Tajweed, it's time to start with the hifz program and Quran memorization for kids. 
Children have amazing memorization potential, so you need to use it positively as a parent. You can start memorizing Quran for kids with the short Surahs, then gradually go to the long ones.
Otherwise, you can find many hifz plans on the internet and Quran tutors who can teach kids effective tips to memorize the Quran easily.
5- learning Quran for kids through online Quran classes for kids
Nowadays, Online Quran classes for kids have become a preferable option for many Muslims around the world to learn Quran for kids.
These online classes save time and effort for both kids and parents, where your kids become healthy and true Muslims through one-to-one live sessions with professional tutors.
So if this feels like you, give Bonyan Academy a shot, where you can find a variety of Online programs, including the following:
Islamic studies for kids course:
In this course, your kids will learn the essentials of their religion Islam and the Quran. This includes knowing basic Islamic rules, Islamic role model history, and Seerah.
Kids will also learn the five pillars of Islam and other acts of worship, obligatory practices, and duties in Islam. In this course, kids will be able to study the biography of the exemplary character and the best of human beings, the prophet Muhammad (P.B.U.H.).
Quran Memorization for kids course
In this course, kids can memorize the Quran from scratch with the best tutors. No matter your kids' level, our teachers are always here for them.
The students will be given a schedule to help kids memorize new verses and revise what they have already memorized.
Quran recitation for kids' course
Kids can recite the Quran with Tajweed from Mushaf (Quran) in this course. Under the supervision of a certified teacher who ensures that your kids don't have any mistakes, he can give them the Ijazah (certificate) at the end.
We introduce the Quranic recitation basics with Tajweed's rules and gradually take them to higher levels inshaallah.
---
After all, learning Quran for kids can be a daunting journey and need patience, but it is worthy and rewarding as every recited Ayah counts as ten good deeds. So don't miss this and begin Quran learning for kids as early as possible.